Article for website Werk in de Winkel – INretail
Go here to the website of Werk in de winkel
Year-round tropical season
May 2018
Colour affects our shopping habits. Every year new hypes and trends anticipate on this. Every season we try to persuade consumers with new trend colours to buy new things. Admittedly, seasonal collections in the residential industry are less important than in the fashion industry, but also here every season has a colour that fits best. What about the current 'green' trend? We see this throughout the year.
We have seen the green-trend for quite some time, but it is absolutely not yet on its return. There is a lot of enthusiasm for gardening in the city and we are putting more plants in our interiors. About five years ago the first tropical prints appeared. These were mainly limited to garden/balcony collections containing especially prints of banana leaves in a glamorous fifties atmosphere, referring to the wallpaper of the Beverly Hills hotel. Recently Hertex turned this design into a luxurious carpet (fig. 1).
The hype of pineapples, flamingos and watermelons invigorated the 'jungle' initially in terms of colour. These were mainly summer accessories.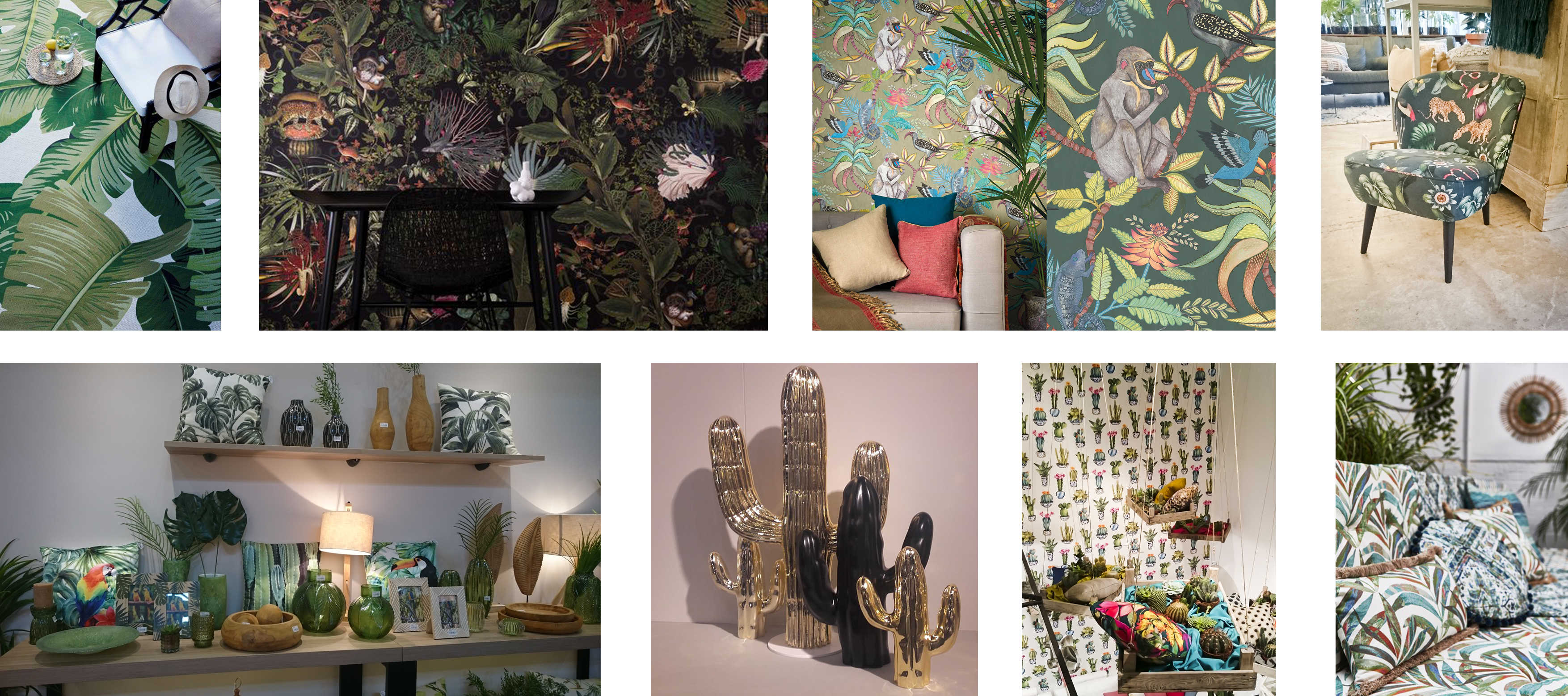 Gradually the traditional idea about seasons and seasonal colours seems to disappear. For example, more dark colours appear in summer allowing us to wear our clothing much longer. In the 'jungle' interior trend we see darker tones as well. The latest tropical prints are much more colourful, but without becoming a disorganized array of colours. The dark wallpaper by MOOOI (presented at the Salone in Milan in 2018) (fig. 2) and Cole & Son (fig. 3) shows all kinds of colours of different plants and leaves and a diversity of exotic animals. Sissy Boy Home Land does this, for example, in a seat (fig. 4). Apart from monkeys and panthers we see many stylish tropical birds such as parrots and toucans (fig. 5). Brands like Fuoriluogo (fig. 6) and Brochier (fig. 7) prove that even cacti as print or accessory can be applied to exclusive interiors. The fresh and positive vibe of the tropical trend also works in more restrained colour combinations such as the prints with leaves of Prestigious Textiles (fig. 8) or the black and white combination as seen on the accessories of Andrea House (fig. 5). On my Pinterest board are even more examples, please click here.
The tropical trend turns out to be a good way to combine different colours and a multi-tonal pallet. Green, mustard-yellow, red, beige, brown, white, black, hot pink, gold, orange, purple and teal; we can throw our rules on how to combine colours and at what season they fit best, overboard. Perhaps it looks initially exuberant, in the end it turns out that this trend finds its way into many different interiors, maybe just as an eye-catcher in your house as a wall panel or subtle with a decorative pillow. From vintage to modern and Scandinavian to classic, the tropical colours combine in a sophisticated way with these interior styles, until long after the summer!